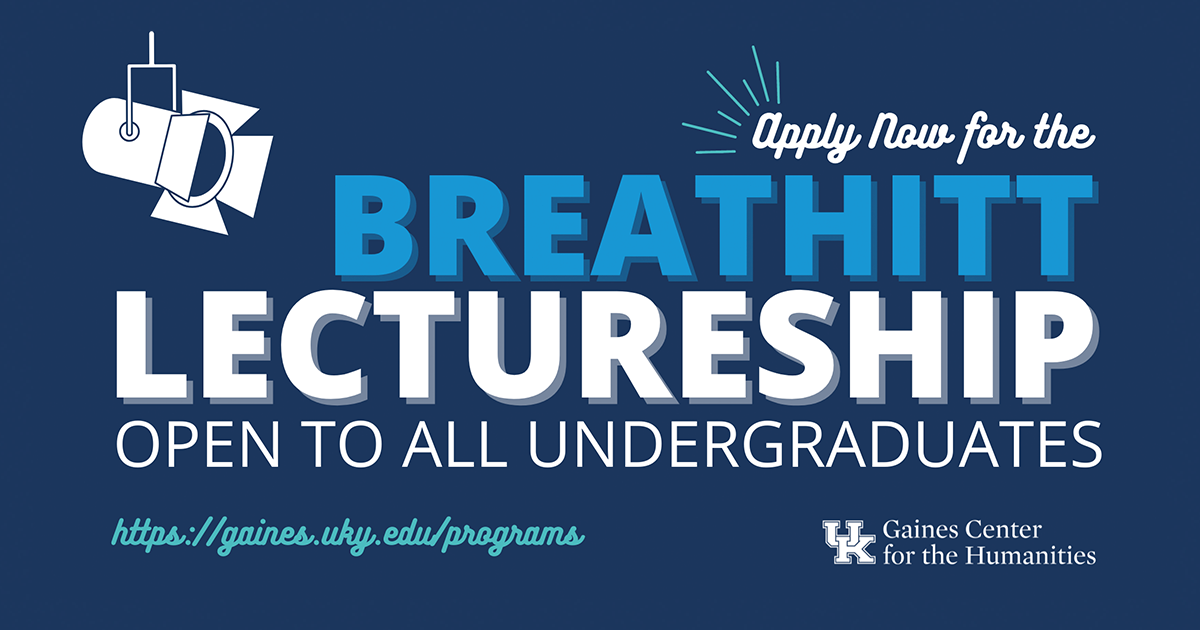 Applications are now open for the Gaines Center Breathitt Undergraduate Conference
LEXINGTON, Kentucky (February 1, 2022) – Application for the prestigious Edward T. Breathitt Humanities Undergraduate Tuition Scholarship 2022 from the Gaines Center for the Humanities is now open to undergraduate students at the University of Kentucky. Although applications are welcome from students of any college or major, the conference should have a strong humanities focus. Any UK faculty member can also nominate a qualified student by emailing Associate Director Chelsea Brislin, Ph.D., at [email protected]
The Breathitt Lectureship was created to honor former Governor Edward T. Breathitt, whose interest in higher education and the humanities was outstanding. This chair is awarded to an undergraduate student whose qualities of mind and spirit have spoken eloquently on one or more of the fundamental concerns of the humanities.
Each candidate will be required to submit a 500-word flyer of their conference (subject to be chosen by the individual). The prospectus must be based on completed research and written work associated with a credit course.
In addition to the prospectus, two references from professors are required.
Undergraduate lecturer Edward T. Breathitt will receive a special award and honorarium of $500.
The application can be found online at https://uky.az1.qualtrics.com/jfe/form/SV_cGzKP9iFnTxovYN.
The deadline for submitting applications is Friday, March 11.
All applicants will be notified of the status of their application by Friday March 18, with the conference taking place at 6 p.m. on Thursday April 7 in the David Marksbury building. The event will take place in person with simultaneous live streaming available.
Past titles of Breathitt lectures are available on the Gaines Center website. For more information, call the Gaines Center at 859-257-1537.