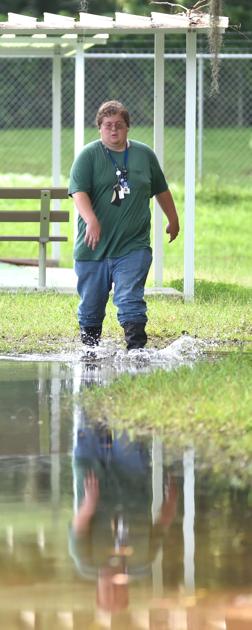 Citrus County Flood Victims Can Apply for Low Interest Loans | Local News
Businesses and residents of Citrus County affected by severe storms and floods from September 15 to 19 can now apply for low-interest disaster loans from the United States Small Business Administration (SBA).
A state disaster declaration makes loans available for Citrus, Hernando, Levy, Marion and Sumter counties.
From January to October, the county received an average of 66 inches of rain. And during the summer months (June through September), it recorded 49 inches, an all-time record for the rainy season, according to the Southwest Florida Water Management District.
In September, county commissioners got the ball rolling on these loans by adopting a local declaration of emergency to help residents rebuild their homes damaged by flooding.
Dozens of homeowners appealed to the commissioners at that meeting for relief. Besides the loan program, the board said its hands are tied.
"Businesses and private non-profit organizations can borrow up to $ 2 million to repair or replace real estate, machinery and equipment, inventory and other commercial property damaged or destroyed by a disaster," said Jon Richards, SBA's North Florida District Director.
Loans of up to $ 200,000 are available for homeowners to repair or replace damaged or destroyed real estate, said Kem Fleming, director of the SBA's Field Operations Center East in Atlanta.
"Homeowners and tenants are eligible for loans of up to $ 40,000 to repair or replace damaged or destroyed personal property," Fleming said.
The SBA will be opening an outreach center for disaster loans at noon on November 29 at the Citrus County Canning Center, 3405 W. Southern St. in Lecanto. This office will close permanently at 4 p.m. on Thursday, December 9.
Here are the hours: 9 a.m. to 6 p.m. Monday to Friday; 10 a.m. to 2 p.m. Saturday, December 4.
Disaster loan information and application forms can also be obtained by calling the SBA client Service Center at (800-659-2955) or by sending an email to [email protected]