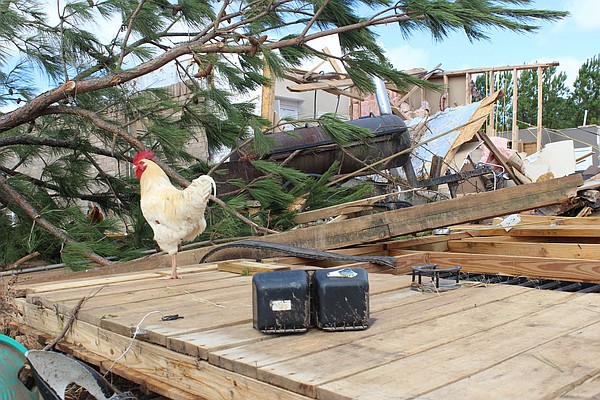 Low-interest federal loans available for storm recovery
More help is on the way for individuals and businesses trying to rebuild after the devastating storms that tore through the region in early November.
The U.S. Small Business Administration on Thursday announced the availability of low-interest federal disaster loans for those affected by the Nov. 4 tornadoes. The aid comes in response to Texas Governor Greg Abbott's request on Tuesday for a federal disaster declaration for northeast Texas.
The federal statement makes SBA assistance available in Bowie, Camp, Cass, Delta, Fannin, Franklin, Lamar, Marion, Morris, Red River, Titus, and Upshur counties in Texas; and Bryan and Choctaw counties in Oklahoma.
Businesses of all sizes and private nonprofit organizations can borrow up to $2 million to repair or replace damaged or destroyed real estate, machinery and equipment, inventory, and other assets.
"The SBA may also lend additional funds to businesses and homeowners to help cover the cost of improvements to protect, prevent, or minimize the same type of disaster damage in the future," the SBA said in a statement. Press release.
For small businesses, small agricultural cooperatives, small businesses engaged in aquaculture, and most private nonprofit organizations of any size, SBA offers economic disaster loans to help meet the capital needs of turnover caused by the disaster. Economic injury assistance is available whether or not the business has suffered property damage.
Landlords and tenants can also take advantage of federal assistance.
"Disaster loans of up to $200,000 are available to homeowners to repair or replace damaged or destroyed property. Landlords and tenants are entitled to up to $40,000 to repair or replace damaged or destroyed personal property," the press release reads.
Interest rates can be as low as 3.305% for businesses, 2.375% for private non-profit organizations, and 2.313% for homeowners and tenants with terms up to 30 years. Loan amounts and terms are set by the SBA and based on each applicant's financial situation.
Cass County Judge Travis Ransom, who reports at least seven storm-damaged businesses in the county, said SBA loans "can be of significant value," given current interest rates.
To help affected residents access assistance, the SBA is opening disaster loan centers starting Monday. SBA customer service representatives will be on hand to answer questions about the loan program and help each person complete the application. No appointment is necessary.
The Awareness Center hours are —
Bowie County
New Boston Community Center, 301 NE Front St., New Boston, TX
9 a.m. to 6 p.m., Monday to Friday
Closed for Thanksgiving (Nov. 24-25)
Cass County
Hughes Springs Community Center, 902 E. First St., Hughes Springs, TX
9 a.m. to 6 p.m. Monday to Friday
Closed for Thanksgiving (Nov. 24-25)
Lamar County
Red Cross Building, 2673 N. Main St., Paris, Texas
10 a.m. to 7 p.m. Monday to Friday
Closing at 2 p.m. on Wednesday 23 November.
Closed for Thanksgiving (Nov. 24-25)
Morris County
Morris County Courthouse Annex, 502 Union St., Daingerfield, Texas
9 a.m. to 6 p.m., Monday to Friday
Closed for Thanksgiving (Nov. 24-25)
Applicants can apply online, receive additional information about disaster assistance, and upload applications at Disasterloanassistance.sba.gov. Applicants may also call the SBA Customer Service Center at 800-659-2955 or email [email protected] for more information on SBA disaster assistance.
Applicants who are deaf, hard of hearing or have a speech impairment should dial 711 to access telecommunications relay services.
Completed applications should be mailed to US Small Business Administration, Processing and Disbursement Center, 14925 Kingsport Road, Fort Worth, TX 76155.
The deadline to file a property damage claim is January 17, 2023. The deadline to file an economic loss claim is August 16, 2023.
In Texas, federal assistance will supplement disaster assistance through the Texas Division of Emergency Management.
"Texas will continue to provide all necessary resources to help area Texans recover from these recent storms," ​​the governor said.
Abbott submitted his statement after the completion of damage assessments by local, state and federal authorities, as well as a review of damage assessment information provided by the Texans using the the individual state of Texas at damage.tdem.texas.gov.
In Oklahoma, Governor Kevin Stitt issued a 30-day executive order to continue mobilizing state resources that began on the day of the storm.
"The State Emergency Operations Plan was activated on November 4, 2022, and the resources of all departments and agencies of the State available to deal with this emergency are hereby committed to the extent reasonably necessary to protect lives and to prevent, minimize and repair injury and damage," the order states.
Governor Abbott said the disaster declaration and SBA assistance brings storm-affected residents "one step closer to recovery."
"Residents and business owners in Northeast Texas will now have access to critical financial support to rebuild, repair and recover from the physical damage and economic harm caused by this storm system," the governor said Friday. .