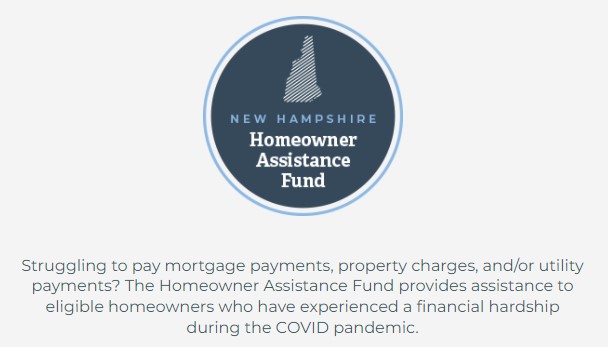 NH Owner Assistance Program Accepting Applications Now
The federally funded New Hampshire Homeowners Relief Fund program, established by the Governor's Office for Emergency Relief and Recovery, has launched and is accepting applications.
The program provides assistance to eligible New Hampshire residents struggling to pay mortgages, property taxes, utility bills and other housing costs during the COVID-19 pandemic. Applications will be reviewed to determine eligibility, and payments to vendors are expected to begin this month. The program is administered by New Hampshire Housing.
To be eligible for the program, owners must own and occupy the property as their principal residence; have an income below 125% of the median income of the region for their place of residence; and experienced a pandemic-related reduction in income or increase in household expenses that existed after January 21, 2020. The application portal is available at HomeHelpNH.org.
The NH Homeowner Assistance Fund program offers three types of assistance, with a total maximum benefit per property of $20,000:
Mortgage Reinstatement – funds for delinquent mortgage payments (maximum benefit – $20,000)
Default resolution of land charges – funds for delinquent property taxes, home insurance, homeowners association or condo fees/dues, and co-op maintenance or land rents (maximum benefit – $20,000)
Utility / Internet Payment Help – funds for overdue utilities (electricity, gas, heating costs and internet payments (maximum benefit – $3,000)
Regardless of a landlord's eligibility for the NH Landlord Assistance Fund, housing advice and legal services (often free or at low cost) are available for those who need further assistance. AHEAD, an NH nonprofit agency that offers financial and foreclosure counseling statewide, provides community navigator services to help homeowners through the application process.
Homeowners facing an immediate threat of foreclosure, tax deed, or sheriff's sale should contact 603 Legal Aid at (603) 224-3333.
Program guidelines and the application portal are available at HomeHelpNH.org.
An extensive statewide outreach campaign is underway to educate struggling homeowners, the public, organizations and service providers about the program. Details of the NH Homeowners Assistance Fund program are available at HomeHelpNH.org.
The NH Homeowner Assistance Fund is a federally funded program through the NH Governor's Office for Emergency Relief and Recovery and is administered by New Hampshire Housing. The program is supported, in whole or in part, by a federal award number HAF0014 awarded to the State of New Hampshire by the United States Department of Treasury under the Homeowners Assistance Fund established by Section 3206 of the American Rescue Plan Act of 2021, Pub. L. No. 117-2.
Under federal law, this program is restricted to qualifying homeowners. Renters in need of assistance should contact CAPNH.org or call 2-1-1 to apply for the NH Emergency Rental Assistance Program.
News, reports and data from NH Housing
Housing Market Reports
New Hampshire's Workforce Housing Act: A 10-year retrospective of the law's impact on local zoning and the creation of workforce housing
2021 New Hampshire Residential Rental Cost Survey Report
Develop employer-supported housing
Analysis of housing needs in the north of the country
New Hampshire Housing Year 21 Annual Report
Economic and Demographics of the New Hampshire Housing Market
About housing in New Hampshire: As a self-governing public corporation created by the state legislature, New Hampshire Housing promotes, funds and supports affordable housing. New Hampshire Housing has helped more than 50,000 families buy their own homes and has helped fund the creation of more than 15,000 multi-family units.